Random
Interview with Hong Jinwhon
If you could pick a number from one to ten, which would you choose? Would you go with your favorite number or simply pick the first that came to mind? If you were having trouble picking one, would you let your computer do it for you? A random number generator or spinning roulette application might come in handy.
How does a computer come up with a random number? How can a computer, given that it executes commands according to a specifically determined code, even mimic humans? Would that be 'artificial intelligence' at work? To generate a random number a computer operates a process called pseudo-random numbers. This process is a sequence of numbers that is not quite random, yet is considered because of howi complex and elaborate it is.
Surfing the web, we produce delicious 'cookies' while others eat away at the cookies and march on. The simple task of picking a number from one to ten has become more complicated than it's supposed to be with all the recommended videos and ads that make their way through the browsers we use. Below is the discussion we had with Jinhwon Hong about Youtube's recommendation algorithm and the reflections on visual power addressed through
DESTROY THE CODES
– a new work for the Seoul Mediacity Biennale.
---
Part 1
Johoon Choi

Please tell us your thoughts about the Biennale's theme "escapism" and how your work began.

Jinhwon Hong

When I first heard about the title and the outline, escapism sounded shallow because it's impossible to truly escape without engaging with the system itself. For example, feminism and racial equality are increasingly being used in corporate promotions, but this isn't a strategy that aims to achieve liberation. It only creates another market. The curatorial proposal raised a lot of issues for me. So I wrote back about my understanding, criticism, and takes on the theme, and ended up showing my photographs along with an upgraded version of Good Afternoon, Good Evening, Good Night, which I had shown in Zoom Back Camera (2019).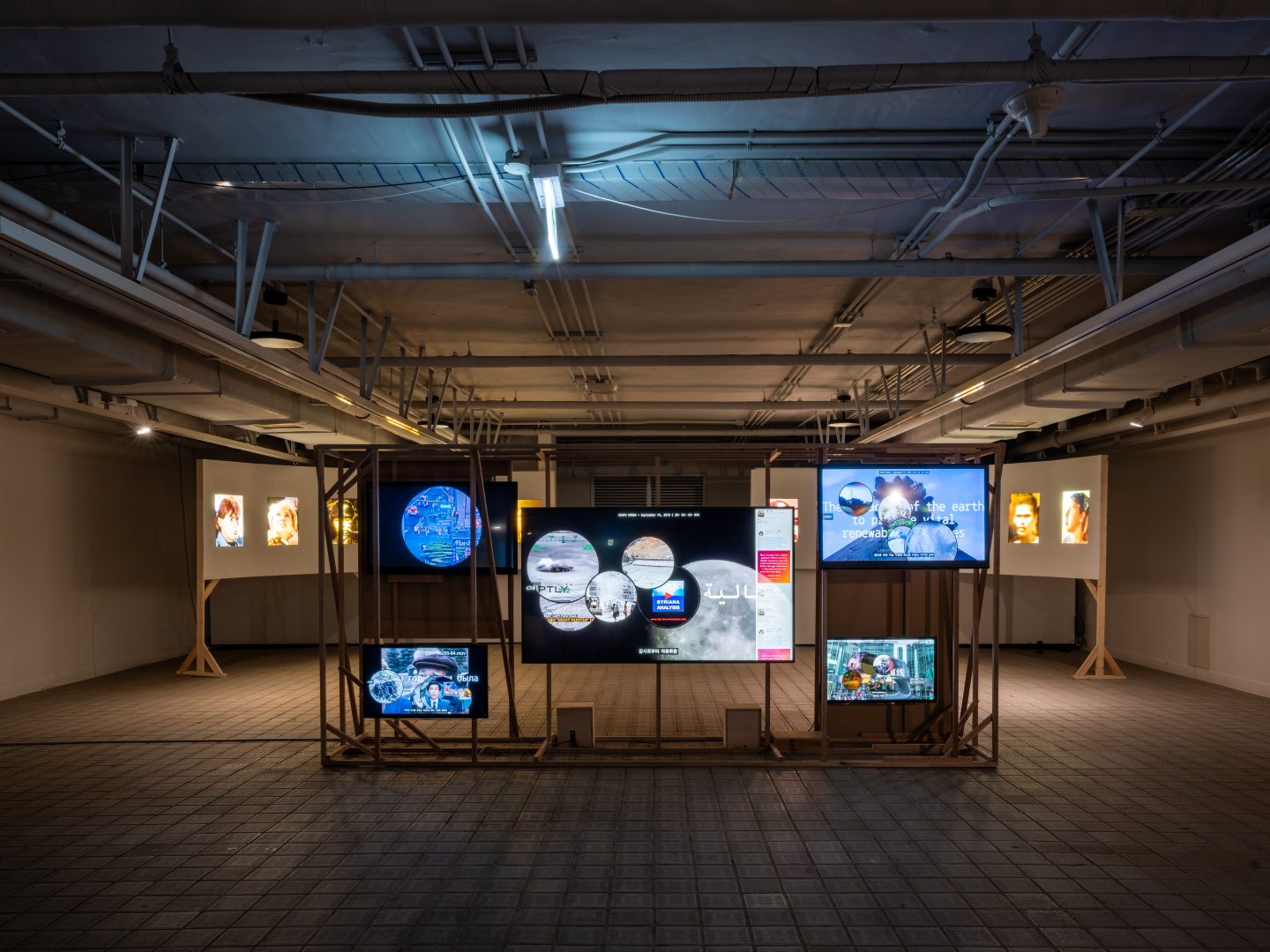 Good Afternoon, Good Evening, Good Night – Channel 1, 2019, video clips of the Syrian civil war, manifesto by the Free Syrian Army, YouTube streaming platform, dimensions variable. Installation view at SeMA Bunker. Courtesy of the artist. Photo: Jinhwon Hong.


Hayoung Song
We'd like to hear more about the work you showed in Zoom Back Camera.

Jinhwon
Sure. Zoom Back Camera was curated by Park Suzy to explore contemporary gurus. I was interested in algorithms developed by platform services including social media. I could sense the rapid changes in the way people view and experience their lives, yet the more I observed the platform environment, the more I noticed the impact of the visual world on them. With Instagram, Youtube, and even metaverses, things are selectively represented and incorporated into specific visual worlds, and these very worlds seem to determine how we live our lives. The virtual and the real already overlap, and what becomes visible in the virtual world eventually becomes the foundation of my being. However, this tendency unfolds in one direction. Ultimately, the fantasy of technological advancements creates new markets, and people remain perpetually bound to capitalistic markets. I wondered what kind of visual content I would become, what visual content would I inhabit, and, where would the power of determination and decision making lie. My interest in algorithms begins here. So I thought, "let's destroy the algorithm, otherwise the current situation will accelerate. And on top of that, the web 3.0, which will attempt to replace the web with artificial intelligence algorithm, will make this world even more unbearable."

Johoon
Do you worry that we may reach a point where we can no longer keep up with the advancements?

Jinhwon
Society has control systems. There is capitalism at large, but more specifically, there are also neoliberalism and the fourth industrial revolution, often called techno-capitalism. These systems restructure and control our lives, in the ways that they define and direct society. These control systems are now geared towards obliterating the power which keeps in check and holds everyone accountable to values we depend on and trust. The world seems to be marching towards anti-intellectualism, and we are repeatedly witnessing more hatred than resistance. The fundamental power that holds the world together is at risk of dissipating. Whether it is wrong or right, this power is what prevents authority from becoming the sole force at play. This kind of power comes from resistance towards this very authority.

Johoon
How did you design your work and how was it produced?

Jinhwon
I shared with the curators that I would be writing a manifesto. I didn't know how it would go, but I wanted to practice some kind of activism. I was exploring a form of pseudo-activism that while leaping over logic, could still be powerful enough to inspire people to do something. I needed a manifesto to do that. And, then I would need a doctrine to go with that manifesto. The doctrine, in this case, became the algorithm I made for the work, or even the very structure of the campaign it promotes. After that, I could begin to recruit participants. That is how I came to propose DESTROY THE CODE. This project has a very simple structure. Certain people become connected via this system and begin to create a database of their own by drawing aspects from the world present on Youtube but which are not seen as mainstream. This will then be complemented by more people subscribing and contributing to this database. Links to videos will be sent to these subscribers, thus disrupting the algorithm for their own account. I also discussed with the curators who would be making choices that would build up this database.

Hayoung
Manifestos have their own traditions throughout history, with characteristic styles of address. Nowadays we do not see them too often. Even politicians have Youtube channels and upload Vlogs (laughs). So the choice of having a manifesto comes across as ironically refreshing.

Johoon
Were you always interested in programming?

Jinhwon
I've enjoyed making my own websites since probably my middle school years. As I briefly mention in the manifesto, I am a believer in the value of the web. The most important value of the web is the ability to establish connections within all the information. The database holds all this information together. This means that how you structure the database, how much you decide to open it up, or how exclusive you make it, will affect the core of what the web is all about.

Johoon
Do you mean the way we wander from link to link? On the websites of corporate platforms, they introduce their services along with regulations, policies, and doctrines. For example, Naver and Kakao consistently invest in the field of artificial intelligence. Their websites state what kind of programs they are developing, how the API is used, and the ethics concerning AI.

Jinhwon
Yes. This idea applies to the notion of the hyperlink you mentioned. For instance, Google Map is based on data. They have a structure in the database that decides to what extent we have access to it and how it will be visualized. The most problematic issue of big data is that it is anchored on an indiscreet collection of data and control over that data. Data is collected to an exploitative extent, yet we have no way of knowing how it is being accumulated or what or how the system learns from it. We are defenseless.

Johoon
How did you approach the steps of collection, selection, and service when developing the program for the work in the biennale? This seems to be more of an issue than just mere technicalities (laughs).

Jinhwon
To make decisions I would have to examine the collated data, but I firmly believe in the political impact of randomness. Randomness, on practical terms, goes beyond being just a mathematical issue. There is an argument for selecting members of the National Assembly by drawing [in order to be fair], but I am more interested in who gets to decide the value attributed to certain data, especially if we are to suppose that people are data. In the manifesto, there is a part about taking authority and destroying it. The objective is not to attain power, but in locating and destroying it. This is why it was important to provide data without assigning a specific value to any of it. The dilemma is clearly identified in certain public services. In the beginning, I had to recruit the service users myself, but once that was done, anyone should be able to join and participate. My involvement would wane from that point on. There is still a question of censorship when it comes to exceptions like pornography. My stance is to let the process run as is and to have faith that the users will foster a culture and consensus where trash content is identified and set aside. Then, we would need no conscious control mechanism. There used to be such a culture in the world wide web before the platform era. My intention is to restore this value.

Hayoung
I see how multi-layered problems could arise. My Instagram feed suggests advertisements based on the accounts that I view. This way, we feel familiar with the content presented to us. But at times we are startled at images that are alien to my universe, which is quite disturbing. I wonder how this would work in reality.

Jinhwon
The integral part of this project is to send video links to the subscribers. They sign off their comfort to become subscribers. It is very comfortable when you see only the things you enjoy seeing… However, the minute you subscribe, that easiness is gone. You trade your comfort for the possibility of an open world. As you said, you may experience disturbing moments in this process. Yet, this is necessary. Comfort is not exactly what you need or something you have chosen, instead it is a notion forced on us for the benefit of the corporate platforms. Priceless effort, which I mention toward the end of the manifesto, is about the challenge you are willing to face to think for yourself and to search based on your judgment instead of scrolling through what is selected for you by an algorithm. It is the struggle of consciously jumping through the hyperlink and choosing what information to consume and structuring it rather than foregoing your right to choose. This is what we need to restore.

Johoon
This effort you mention is what users of the early Youtube era were willing to put in. When the recommendation algorithm was at its early stage, we would often get recommendations from our friends and colleagues. Would it be fair to ask if you are simply hoping to reverse time and go back to the 'good old days.'

Jinhwon
What you are describing is what the early world wide web was all about, and it is exactly what made the web valuable. It was possible because the information was connected. We could decide on what kind of information we needed and find what we were looking for on the web. Enter the platform era, and data is severed and closed, preventing us from achieving that. You can search all you want within Facebook, but you will never get a tweet out of it. It is all cut off because monopolizing data is the key to profit. You need to escape this isolated world, but the death of the web has already been declared and we cannot go back to the web as it once was. Then, we cannot help but create the next stage. Corporate platforms are already well aware of the limits of the current algorithms and systems. We are now in a transitional period where they need to come up with a new system of exploitation. Then, we will need to create a new world of data using new imagination in order to be able to restore the connection. We cannot go back to the past, that's for sure. There is no such thing as reversal when it comes to technology.

Johoon
Now I understand how "the web has died and it is now the world of platforms."

Jinhwon
We live in a time where data is capitalized. Monopolizing and controlling data is the biggest moneymaker there is.

Hayoung
I see a very difficult struggle here (laughs). As the speed of the platforms is accelerated, people are not used to them. We now know whether using either Naver or Google is better depending on what kind of information we want. We are also now becoming used to thinking through platforms, so unless we come up with a way to familiarize ourselves with this new data world, this effort could end up being a sporadic movement.

Jinhwon
That is definitely a possibility. The biennale team and I discussed heavily whether this project could be a movement that could actually work. I wouldn't know because I am not an activist. Then is this project a performative initiative that is more or less conceptual art? That is not exactly it either because I want the system to actually work. I guess I enjoy being in the middle of it all. I have no idea whether this system could do the job, but I think that art's mission is to keep proposing how we need to go forward in the visual world and imagining a world that surpasses the conventional visual world whether or not the idea is compatible with the world we live in. When making melting ice cream (2021), I knew I had to keep showing the workers on strike through the archive. We live in a society where beings are not acknowledged unless they are rendered visible. I had to show their defiance again and again. You get to wonder if Coupang would be able to continue when their workers are dying. These kinds of problems will keep exploding, and there will be strikes, followed by beatings and disappearance, failure, and defeat. However, I believe that the world moves on repeated struggles and defeats. Whether it is through philosophy or art, or any other medium, we need to imagine and propose a new world to overcome the world we live in. I believe art has a role to play in this work.

Hayoung
Then, is your work a kind of resistance within the platform?

Jinhwon
Yes. I always say that art is what creates obstacles in the visual world. The algorithms are fabricating an endless visual world that is a world of inertia. This calls for obstacles that foster an awareness that something is not right. That is where we can start: by creating a 'something-is-not-right' moment.

Hayoung
I look forward to that (laughs).

Jinhwon
(laughs) As the project goes on, it might need more people. At an early stage, we need uploaders. I tried to find people who are further away from the visual, or who have been marginalized. I want to let them choose the content.

Hayoung
Do you mean the art scene when you say the visual world?

Jinhwon
I could leave that up for discussion. But I do have in mind certain people from the feminist movement, those who are marginalized, or the labor movement. All we hear on the news is about two major labor unions made up of permanent employees. There are still people we don't hear about. They will upload videos on Youtube for survival and gain visibility, but nobody will see them. These videos do not contribute to Youtube's profits, yet they provide a certain value to our society. In a broader term, there are so many things going on worldwide, for example in Syria, but we only scratch the surface of a much deeper narrative. I am looking for people that are pushed away by society. I know that this system may not be able to embody all these perspectives. But my hope is to see the movements of resistance grow here and there through various forms and content.

---
Part 2
Johoon
I noticed how the website of DESTROY THE CODE refers to the code editor style. This program is used by developers. Was this intended to visualize the nature of this project?

Jinhwon
Yes. I referenced the code editing program I use. It is the setting I am used to.

Johoon
You mentioned how you wanted to invite people who are marginalized from the visual world. How did things go with the invitation and the launch?

Jinhwon
I invited activists around me. Many of the uploaders are activists from various organizations. When I introduced my project to them, they found it to be a bit difficult with all the technical jargon. So I ended up pitching them that this project will allow people all over the world to see the videos they upload. It could be a promotional thing (laughs). Then they started sharing videos from their own channels.

Johoon
How you incorporated the automatic translation function for languages other than Korean and English was impressive.

Jinhwon
Initially, I wanted the website to be in the language of the user's location using the local information. But it was also important to convey the project's intentions, so I used Korean and English, which were two languages that could be cross-checked.

Johoon
I've also subscribed to the service and received a lot of emails. This project was meant to make changes to the recommendation algorithm. Did you sense real changes? (laughs)

Jinhwon
I ran a few test accounts, but to people like me who use Youtube often, the impact is not very noticeable. Perhaps because there is already a lot of data input. There will be discrepancies in each account. The hour when this is used is also a determining factor. On the other hand, the process of researching the video you'd like to share for the project impacts the algorithm, speeding up the changes.

Hayoung
Have you selected activists on purpose to participate in this project?

Jinhwon
Yes. I know many activists and I assumed they would have a better understanding of the project since it is a movement of sorts. I was worried about only getting videos about strikes, but as the participants expanded there were a variety of videos uploaded on the program. Recently, I've seen a lot of trot videos (laughs).

Johoon
I noticed that you now have a fair number of subscribers, which might make bulk mailing an issue. Also, the images of the video are in black and white in the email. Was this intentional?

Jinhwon
Initially I used Google's SMTP server to send out emails, but at some point, I was blocked. Mailing services are often used for non-commercial purposes, so I still don't know why I was blocked. The problem always lies in the fact that we never know why. I looked through a few Korean services and finally found one to continue sending out my emails. It was important to have an overall hierarchy of the video's thumbnail, title, and the information of the recommender. Design matters too. When I was using Gmail from Google, the video was viewed automatically in color.

Johoon
What were the major issues or struggles in programming for this project?

Jinhwon
Crawling creates a problem when programming a public service. Crawlers tend to roam through websites, pressing all the buttons and collecting links. A huge amount of Null data is collected in the process. I tried using CAPTCHA (Completely Automated Public Turing test to tell Computers and Humans Apart), but I needed a programming solution because that option was not compatible with the project's system. The website's host is a Korean agency, but I took a detour and tried accessing it from a foreign account. The website had mostly text data so it's not heavy at all, but the database exchange speed was very slow. Then I remembered an image of the undersea fiber-optic cable and realized we are actually connected via physical cables (laughs). So I ended up moving to a foreign server.

Johoon
So, you took a trip all the way across the sea (laughs). In the subscription email, videos are randomly selected from the database of video links contributed by the participants. To be random in the digital world means slightly different things, like pseudo-random numbers. Depending on the approach and the situation, this process operates like random numbers. What are your thoughts about randomness between reality and the digital? Why did you apply randomness in your project?

Jinhwon
I choose to work with randomness as a statement: I choose not to seize power as an owner of the system. This is more important regardless of whether the randomness is real or pseudo in the digital. It is about waiving the controlling authority that includes or excludes something. The decision-making is up to the judgment of the computer and the recipient of the videos.

Johoon
Randomness, in this case, operates as an agreement between the recipient and the sender. It operates on the premise that both parties will communicate on an equal basis and the least amount of necessary trust.

Jinhwon
Yes. With trust, we can laugh it off when bizarre videos arrive in our mailbox.

Hayoung
Are there any memorable videos from the mails?

Jinhwon
We had some very interesting ones. There was one that people commented on. The title was "Can Dialectics Breaks Bricks?" I heard people from the cinema and video community talk about this one. I was happy to see that discussion, which is something that seemed to have waned in these fast-paced content-consuming times, was revived. Nowadays, many artists from Hong Kong have escaped to the UK, and they are exploring ways of being in solidarity. Someone introduced this system to them, suggesting they upload their stories. Since then, access from the UK has increased and we have more videos about Hong Kong. It's interesting to see how far it could go without my direct involvement.

Johoon
What are your plans for the future?

Jinhwon
My video work melting ice cream has a distributor now, so it is on its way to being distributed. Recently, I've been invested in finding things to document and visualize while I still can. Currently, my research for an upcoming project is about logan stones in Ulsan. I am curious about what motivates people to try to shake them even though they know it's unlikely these will be dislodged. People tend to leave them be when it appears they might move. However, when they look impossible to budge, then people feel compelled to interfere with them and sometimes even cause them to fall. I am intrigued by this odd compulsion. Also, Ulsan is a very important place for me. There are issues associated with Ulsan that I want to address such as countless labor struggles, histories of betrayal, or the stories of the victims of the Samsung semiconductor factory strike. Also, I am looking for things that might disappear if I don't tell their stories through art. One such topic is Minjung-gayo. I do think Minjung-gayo is art and the singers are artists as well as their activists . Although they play a very big role in the field, they are not talked about. Without documenting and archiving them, they may be forgotten. So I am anxious to start looking into this.

Hayoung
We look forward to it. Thank you for your answers.

Jinhwon
Thank you.

〈melting icecream〉, 2021, Single-channel video, 4 channel sound, 60min, Loop, Courtesy of the artist.