Chroma Key
Interview with Ryu Hansol
Chroma key is one of the most common techniques of visual effects in video. The camera sensors save the light information according to the RGB scale, and one element among the RGB information of the generated image is to be manipulated. Using the chroma key technique is about extracting a part of an image trapped in a frame to replace it or send it somewhere else. The figure that is isolated from the image sets out on a journey in line with the editor's intentions.

A screen is an essential part of this journey. Screens in the color green and blue from the RGB scale serves as a filter to separate the foreground from the background. Like rice paper that becomes transparent with water, the screen operates as a transparent pocket, holding the contents together until it is eaten and chewed on.

Yet the screen is not a physical wall, be it solid or wobbly. If it were a wall, it would only be one meant for exchange, ready to make way to the digital by applying RGB pigments. This RGB-projected wall ultimately operates as a screen, something that is rendered transparent and begins the exchange between the real and the digital.
---
Johoon Choi

Decoding Models originated from an interest in how contemporary artists understand media in the digital age, and how they use digital devices and modelling tools in their works. We explored how these tools are used to produce images and the contexts in which they exist.
Hayoung Song

The central theme of this edition of the Seoul Mediacity Biennale is escapism. What was your take on this concept, and what was your approach to the work you developed?
Hansol Ryu

I've always been an escapist myself (laughs), so I read Yung Ma's proposal with ease. His understanding of escapism was that it is not to be determined in terms of good or bad, but considered a state for possibility, which was quite interesting. From this, I was able to let my imagination work freely. My focus has been the feeling of liberation. Although the issues at hand are not resolved immediately, temporary feelings of freedom offer strength, allowing me to explore new possibilities.

Hayoung

Liberation could be a compelling interpretation of escape.

Hansol

Sure. The feeling of freedom is also what I have in mind when I incorporate elements from horror B-movies into my video works. The square frame of the screen serves as a temporary wall of morality, and within that structure a realm of freedom is created. Within this realm, cathartic imagination can run wild. As this is exactly what drives my work forward, I felt very within my realm with this theme. This also made the performative aspect of the video possible.

Hayoung

Freedom has become the connecting thread of the theme and the form in your work.

Hansol

Yes. I also enjoy memes distributed online (laughs). Since they are produced by cutting out pieces [of images, texts, ideas] from their original contexts, to me they carry this sense of severed body parts in them. Some of my other works stemmed from wondering what a body feels like as a whole, while being, at the same time, a collection of fragments of body parts, each with 'eyes' of their own.
Johoon

So you applied this idea of being cut out from the original context to thinking about our physical body?

Hansol Ryu

Memes can also encounter other memes (laughs). No one asks where memes come from. There might be some curious people (laughs), but I don't think that's the point. Fragments uprooted from their original context are brought together and merge, becoming an entirely different story. In this sense, also my body, as it is, does not feel like my own. Once a body part is cut off, it becomes an object, no longer subject to the sensations of being a limb. In a similar vein, mutilation of the body in my work is not meant to evoke the infliction of pain. It is used as a metaphor for freedom.

Johoon
In 〈ChriChri MerryChri Stmas〉(2018), you combined the body horror genre and Youtube tutorials. What was your reason for this attempt, and what was your approach as a director?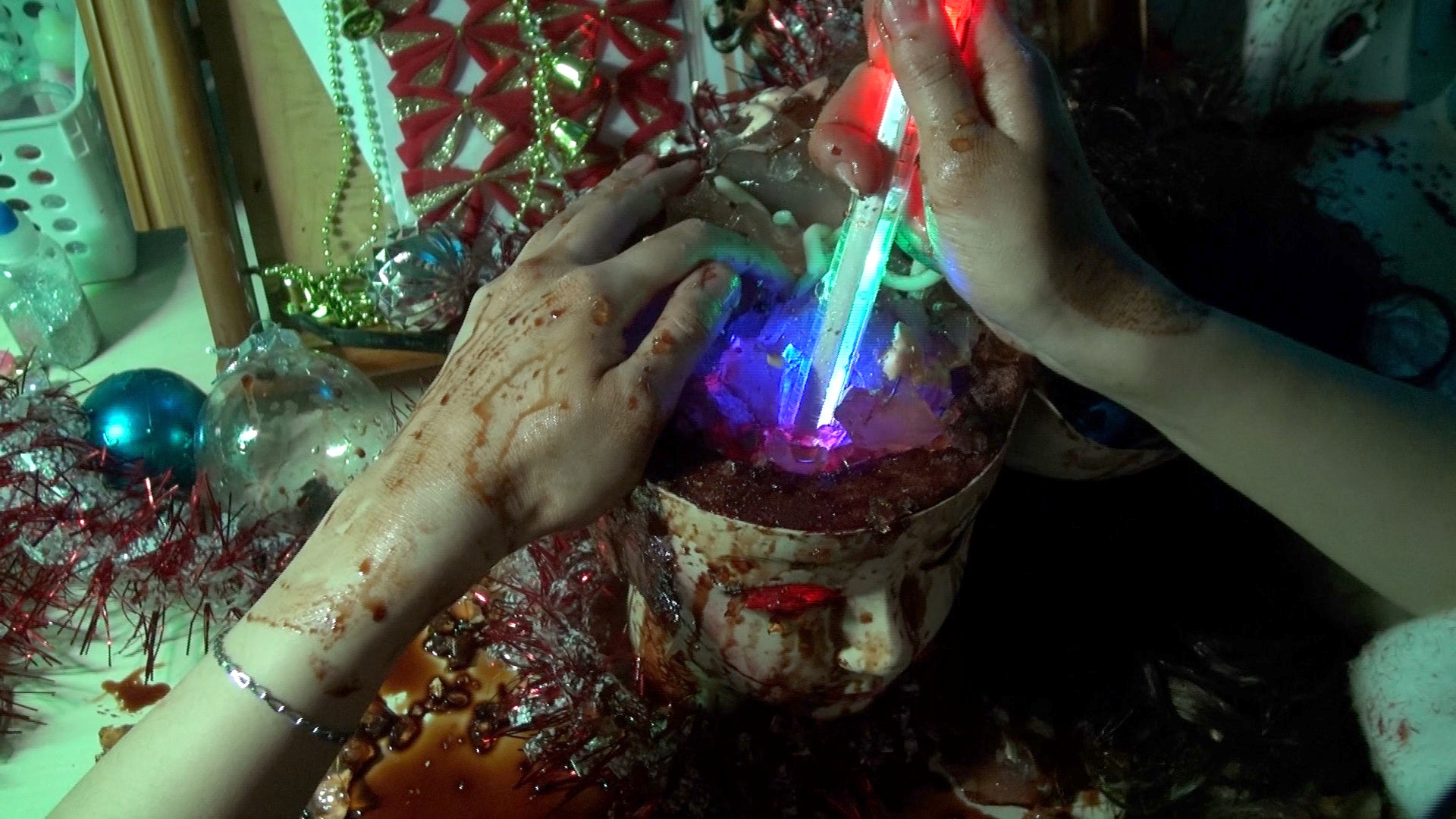 Hansol

In gore films, it is the context that allows one to distinguish what is real and what isn't. At one point, you may be emotionally invested in a scene, but you will immediately jump out of it when something preposterous pops up. Thanks to them, we feel relieved, and are finally able to watch such films without guilt. At the same time, it is still horrifying. Nowadays, we have access to various sources for articles to read or videos to watch on our smartphones. There is an abundant supply of outrageous content. You can be reading something so heart-wrenching that it brings you to tears, but with a quick swipe, you can encounter something totally different that instantly wipes your tears away. I can't help but be a bit concerned.

Johoon

Completely different contents keep showing up out of context.

Hansol
Yes. Youtube tutorials are usually about making things, so you would see objects that are attached to or detached from something. There is a similar dynamic when it comes to consuming our own bodies. Even I objectify and consume my own body. This is also true in consuming video contents.

Hayoung

Objectification is a crucial aspect of your work, and tutorials demonstrate how to disassemble objects. They are literally contents of objectification, which runs parallel to the language of your video works.

Johoon

〈Virgin Road〉, a new work produced for the Seoul Mediacity Biennale, is about a wedding. Please tell us more about it.

Hansol

My work usually starts from my own curiosity. Romance genres in films and soap operas have a tendency to resolve conflicts with a wedding at the end. This seems like a forced solution, a hallucination, and I was uncomfortable with it. I wanted to do something different. And now that I am in my thirties, people around me talk a lot about weddings (laughs). They would tell me to get married, so I started telling this joke to my friends about how I'd like to split myself in half and get married to myself (laughs).

Hayoung

Wow!

Hansol

(laughs) Then I thought about how it would be exhilarating to cut a body in a wedding gown in half. The body would have to stretch from both sides, internal organs dropping through the gap, sharp ribs showing… Initially, the title was Wedding March. Then I found the term virgin road to be hilarious. It's the road you walk for the last time as a virgin (laughs)! Conventionally, the color code for the wedding is pure white, which is a perfect backdrop for blood splatter (laughs). Previously, I tended to use the language of tutorials, but this time, I referenced self-help content.

Hayoung

What brought you to self-help content?

Hansol

Visual content from Youtube is often about release for desires. For example, mukbang videos stimulate consumers' appetite, but at the same time they involve a fictional release. Desire and body organs are closely related, and the process of finding a release from desire through fictional means is tightly linked to my practice. This new work also involves mental release. My go-to search engine is Youtube. When I type in "when I feel down," I get calming videos, while typing "when I feel lazy/tired/ennui," videos that cater to that mood will show up. Perhaps because everybody is a bit lacking in similar ways (laughs). You can't help but feel a little better after watching the videos. You can find comfort in them. When you feel like you are not passionate enough in your life, you will find motivational content and get your enthusiasm back. The music – pam-pam-pam! – gets you excited, making you feel like you can own your life, do anything, and that it's never too late! (laughs) You come to the rationalization that you're a winner. But you will soon realize that it's only a lie you tell yourself and that sense of victory will subside. So, you go on the cycle once again (laughs). I think marriage could be something similar. The cycle seemed to me like looking for pornography, which also satisfies emotional needs. They are all linked together.

Hayoung

When you are pushed to get married, you get to think that marriage will make you happy. But you start to doubt the premise, asking yourself why you should follow these words. It's a whole cycle.

Hansol

Exactly. You go back and forth (laugh). There was this suffocating feeling that I wanted to resolve.

Johoon

What was the point you invested in the most when producing this work?

Hansol

I kept questioning myself about the degree of reality I wanted to reach. This time, I wanted to go overboard. However, when I started editing it, the colors were much redder than I had intended, to the point where you couldn't tell what kinds of objects were shown. Also, I needed a device to engage the viewers, letting their own interpretation unfold by making them curious. Chroma key was the exit I needed (laughs).

Johoon

How did you come to using chroma key?
Hansol

Initially for practical reasons. I couldn't rent the entire wedding hall, nor could I attempt an outdoor shooting. With chroma key, I could overcome the limits of location. When editing, I wondered if I should only include my own footage but decided that I might as well use clips from the 'other sides' of the earth. So, I inserted footage I found from Youtube with keywords like Mother Nature and yoga. With chroma key, I could balance between the real and the fake, which was very important. Previously, the balance was achieved with lousy acting, sound, the timing of objects' appearances. But this time, all the objects were drenched in blood. So I used chroma key to subdue the overall look.
Hayoung

You mean that in the beginning, chroma key was a way to overcome physical limitations, but ended up acquiring the crucial role of balancing the real and the

fake? In what scenes was it used and how?
Hansol

You will see it in the marching scene. The protagonist marches and then her chest is drilled, the head coming in and out of there. When the body is cut in half, the head drops, and it looks up at the sky. There, I thought it would be nice to have a motivational video. I wanted a cathartic moment against the backdrop of my head passing through my body. I made footage with a storm of sunflowers against a refreshing beach. I was told that sunflowers symbolize desires, something like "let's have a happy and wealthy life!" (laughs) The videos our parents send us via messages all have utopian nature scenes as the background, with rainbows, and flowers with great meaning behind them… (laughs) These are all made with good intentions, in the hope we all can lead a great life. Still, when all these elements come together they become something creepy.
Hayoung

Yes, they are creepy (laughs).
Hansol

Right (laughs). I put those backgrounds in also because of the way we see marriage. There is a tendency to view weddings as a way to a utopian land, so I wanted to make this connection.
Johoon

When you go on a zoom meeting, you notice how people sometimes change their backgrounds. There are some hilarious backgrounds to cover where they are or just for fun. Weird backgrounds are also used widely on Tiktok and Instagram. Previously, chroma key was used mainly to put in the background in movies or broadcasting. Now, there are a variety of uses, expanding to other realms. When you are using an editing program, there are conditions for using chroma key. When adjusting the background that is colored green or blue, the mechanism of replacing the color value of certain pixels comes to place. There are a variety of methods for using this mechanism.

Hansol

True. Initially, I worked with a green background. But the scene had a lot of grass in it, and the wreath also had green leaves on it, so it didn't work (laughs). So I switched it to a blue one.
Hayoung

How did you approach the installation of the work?
Hansol

You will see my works on the third floor of the Seoul Museum of Art. Virgin Road is a video piece about a human-monster who splits itself in half and gets married to itself, and Chew-wing is a wall drawing that involves onomatopoeia and mimetic words evocative of tactility in the imagined transformation of the body. In the center there is a round curtain made from a wedding dress fabric. It is designed so that the audience has to go into the curtain as if entering their own body while wearing a wedding gown. I wanted two viewers to be inside the curtain as if the body had split in half to become two, so I only made two headphones available. I pictured two people inside one body (the curtain), watching the video. Once you come out of the curtain, you will see the wall drawing. When making Chew-wing, I made an imaginary connection between the of the mouth-feel when eating Trolli planet gummies and the body being split in half. I imagined multiple tactile senses that involve a split in half. I adopted the distinct expressions of sound in comics to make a black drawing. The tactile imagination is coupled with sound in this drawing, where the forms reflect how a note is dispersed like light and reflected on the other side of the wall.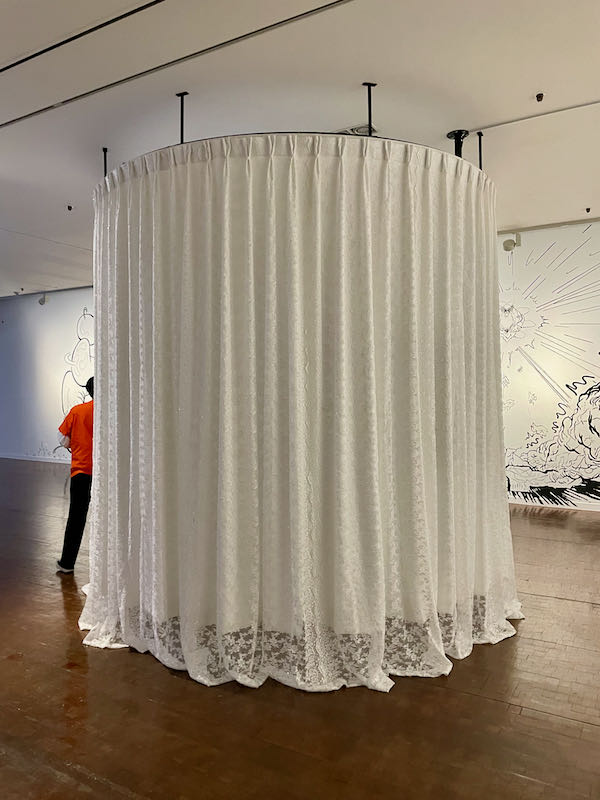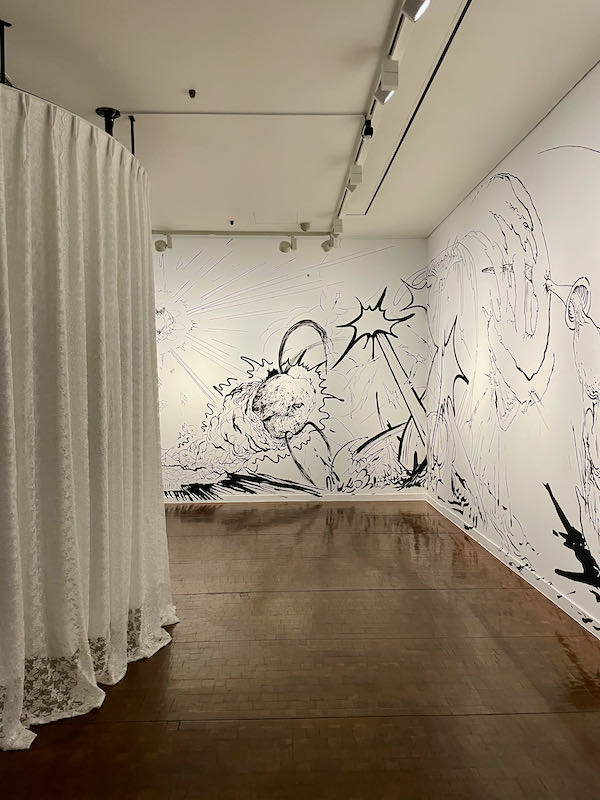 Johoon

What was your overall experience of participating in the Biennale? What are your plans after this?
Hansol

I enjoyed the conversation with the Biennale's curators. Due to the pandemic, the opening was pushed back a year, giving us more time to prepare. During this time, the team's suggestions served as bridges that I was not aware of, especially when it came to issues I was struggling with. The conversation helped me break through them. In December, there will be a show where I will show only my drawings.

END.